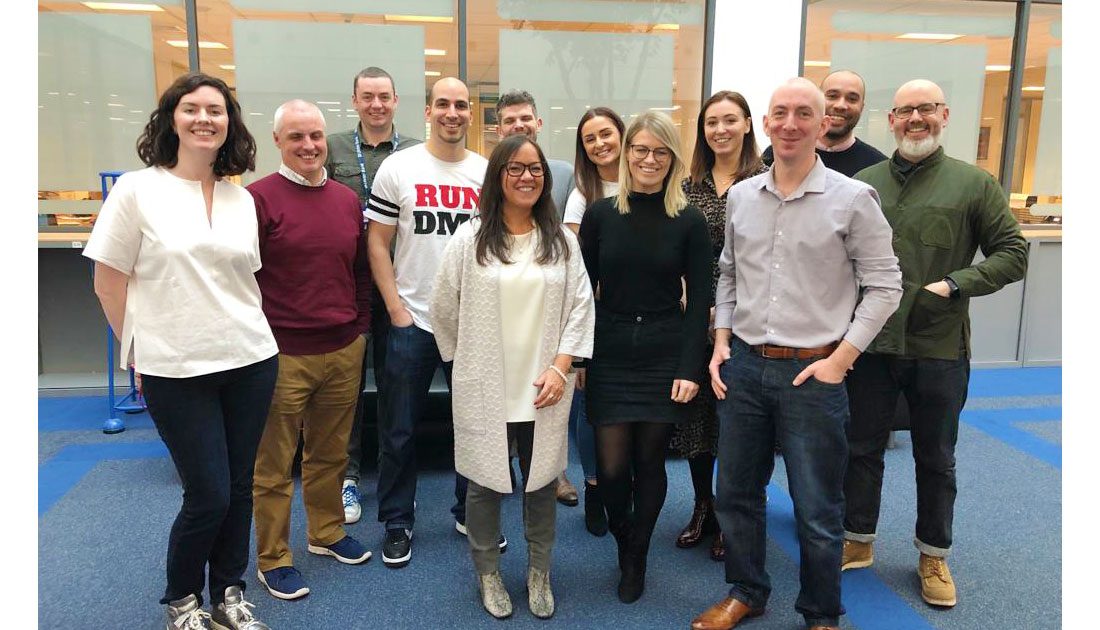 Eximo & Friends – Partnering with Digital DNA & Barnardos to raise money for refugees in Northern Ireland
Sometime later in the summer is the second birthday of Eximo & Friends. From watching a presentation in St Anne's Cathedral one afternoon to launching what was then called Wifi Refugees that evening, it feels like we've come a long way in the last few years.
This year, we've already hosted a successful inaugural event, in partnership with Ulster Bank to provide clinics in their Accelerator Hub and now we're partnering with Digital DNA to broaden the reach of what we do and raise more money for refugees via Barnardo's NI, our charity partner. The tie up with two amazing organisations just feels right and I want to explain why I'm excited about this.
I originally set up Wifi Refugees to provide free marketing advice to SMEs in exchange for a donation to a local refugee charity. The first few were held in Red Berry in Bangor before spreading to other parts of Northern Ireland as more people became involved in the concept.
Over the last 18 months the concept has morphed into something still the same but slightly different! We've said goodbye to coffee shops and hello to partnering with events. Wifi Refugees was ditched as it caused a little bit of confusion – I don't have a wifi problem was heard more than once.
The new name, "And friends" is more than a name, it's a descriptor of how the event works – no longer just one expert for a few hours, but a host of experts volunteering in one place at the same time and friends with some of the best organisations in the land.
Digital DNA – A leader in Northern Ireland
You're reading this on their website, so you probably know enough about Digital DNA already. Over a short number of years it has become established as the best and biggest digital technology conference in Northern Ireland. It's leading the way for the renaissance that's taking place in Belfast that is impacting the rest of the country.
But there's more to DNA than just a big conference; it's an organisation with a social conscience. The support of the start-up scene, the amazing digital futures programme and many other things the team get involved with on an individual basis, are proof that they care about more than just the bottom line.
That's why we've partnered with Digital DNA – our values align. And as a marketer, matching the values is the only thing I look for when brands try to work together.
Barnardo's – On the front line with the refugee community
Our charity partner is Barnardo's NI. We've been working with them for a while now and are constantly blown away by the work they do to support some of the most vulnerable people in our community.
When we started the partnership with Barnardo's I met with a few front line staff who spend their days helping refugees start a new life in Northern Ireland. Barnardo's are there to help support the transition to a new country, a new language, a new school system… different everything.
When I moved from England to Bangor, it took me three years to settle here and I almost spoke the same language as everyone else here and had a loose understanding of how to book an appointment with my GP! It's important to be able to feel at home in your home and the Barnardo's team provide the practical tools to help with that.
The stories their tell of families escaping war zones, often with profound support needs are heart breaking and all of us can help make a difference to them – keep reading to find out how.
That's why all the money we raise for Barnardo's stays here in Northern Ireland and will help their work through the independent guardian service, which supports children in Northern Ireland who are victims of human trafficking and children who are separated from their families and their home countries.
Our Consultants
The consultants are the other key partner in this process. Without them, this couldn't happen! Behind the scenes, Laura Wilson and Emma Graham look after the operations so that things keep moving and we actually turn up at an event ready to go! Their unseen work contributes hugely to the success of the events.
Over the two days of the conference, you can book appointments with the following people:
Emma Burdett – Social media and social advertising
Marc Ellison – Social media and social advertising
Peter Craven – Video marketing
Leanne Gannon – Social media and content
Sean Greer – Brand, design and strategy
Dani McFerran – Brand, design and strategy
Gil David – Facebook and Instagram advertising
Ryan Kyle – Inbound and content marketing
Simon Harper – Website development and Mailchimp
Andi Jarvis (that's me) – Strategy
Each person has a bit more of a bio over on our site and a link to their LinkedIn, so you can dig a little deeper into their skill set.
How you can help
There are a few ways you can support Barnardo's through this partnership with Digital DNA. We've got a range of experts offering consultations over both days of the conference. Here's how to book.
Buy a Pass for Digital DNA via the ticket via link below. Every pass bought that way includes a 25% donation to Barnardo's NI. After you've bought your pass, you will receive an email with instructions of how to book a consultation with one of the team (please note – if you don't want a consultation, you can still buy a pass and the donation happens automagically!)
If you already have a pass and want a consultation – head over to this page and book a consultation. You'll need to bring cash or make an online donation on the day.
If you just want to donate, because you don't need a consultation, you can do so via Just Giving.
Barnardo's will have someone on the ground at the conference. If you'd like to have a chat with them about how your organisation can get behind their great work, drop me a line and I'll make the introduction.
Share this page with your network – you might know someone who this would be great for
It's not long now until the main event and places are limited, so get your ticket and book a consultation!
Thanks for reading and we look forward to seeing you there.
Andi Jarvis
Andi is the Strategy Director at Eximo Marketing.
EXIMO & FRIENDS PASS
This year Digital DNA has partnered with Eximo & Friends to help fundraise for Barnardo's NI.
The team at Eximo & Friends will be providing 30 minute consultations to local businesses in return for a donation to Barnardo's independent guardian service, which supports children in Northern Ireland who are victims of human trafficking and children who are separated from their families and their home countries.
25% of every Eximo & Friends Pass will be donated to Barnardo's NI. Eximo & Friends is a collection of marketing experts who give their time for free to provide consultations and help raise much needed funds. If your business needs to access high quality marketing advice and support, you can book an appointment with one of the 12 advisers who will be available throughout both days of the event.